Books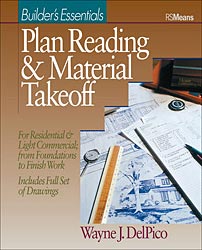 Plan Reading and Material Takeoff: Builder's Essentials
by Wayne J. Del Pico
February 2015; Paperback
A Complete Resource for Residential and Light Commercial Contractors -- based on the latest construction materials and methods. This text explains how to;
Each chapter covers a major construction division, such as concrete, masonry and carpentry, and uses plans, details and tables to illustrate plan reading and takeoff procedures. A checklist for each material division helps ensure that nothing is left out of your takeoff.

Includes a complete set of residential plans from Home Planners, Inc., the nation's leading provider of home plans. With a detailed material takeoff, from site work to electrical.

With over 160 illustrations, including commercial construction details.
---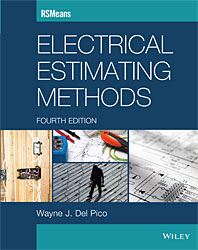 Electrical Estimating Methods, Fourth Edition
by Wayne J. Del Pico
November 2014; Paperback
INDUSTRY RECOGNIZED ELECTRICAL ESTIMATING METHODOLOGY FROM RSMEANS, THE LEADING PUBLISHER OF CONSTRUCTION PRICING GUIDES AND REFERENCE TEXTS
With 26 annual cost data book and 70 reference books, RSMeans is the cost estimating authority that construction professionals recognize. Electrical Estimating Methods, Fourth Edition covers 120+ topics in 26 chapters for comprehensive guidance on providing estimates for virtually any electrical task or project. This edition has been revised to reflect current labor-hour productivities and methods for obtaining material prices in accordance with recognized industry standards and best practices.
This user-friendly estimating resource features;
Tables for estimating labor-hours for a wide variety of tasks and conditions
Guidelines for obtaining the most contemporaneous material prices
Industry standards and best practices from document review through bidding strategies
New chapters on electrical demolition, change orders, and project closeout provide a more thorough approach to estimating
Discussions on bidding strategies, pre-bid scheduling for time sensitive costs, and computer estimating
Electrical Estimating Methods, Fourth Edition serves as a learning tool for novices and as a desk reference for the seasoned professional. It is a excellent companion to the annual publication Means Electrical Costs Data for the professional developing budgets for electrical projects. It provides detailed information on the advantages and disadvantages of various estimating practices.
---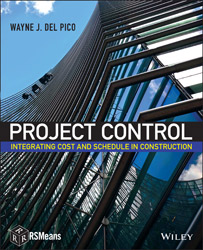 Project Control:
Integrating Cost and Schedule in Construction
by Wayne J. Del Pico
September 2013; Paperback
The key to successful project control is the fusing of cost to schedule, whereby the management of one helps to manage the other. Project Control: Integrating Cost and Schedule in Construction explores the reasons behind and the methodologies for proper planning, monitoring, and controlling both project costs and schedule. The book fills a void in currently available information on project control, as applied specifically to the construction industry. It is essential reading for students and professionals alike.
Topics include:
Balancing contractual obligations with financial performance
The project control life cycle
Setting baselines and measuring performance
Analyzing variances and determining causes
Analyzing productivity and the time-cost trade-off
Recognizing and using trends to forecast performance
Applying lessons learned
---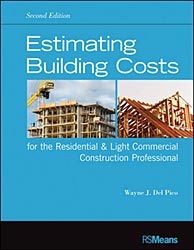 Estimating Building Costs for the Residential and Light Commercial Construction Professional, 2nd Edition
by Wayne J. Del Pico
April 2012; Paperback (E-book also available)
Completely revised and updated to reflect the new CSI MasterFormat 2010™ system, the Second Edition of this practical guide describes estimating techniques for each building system and how to apply them according to the latest industry standards. Cost considerations and quantity takeoff and pricing are included for virtually every type of work found in residential and light commercial projects, from demolition, concrete, and masonry to windows and doors, siding, roofing, mechanical and electrical systems, finish work, and site construction.
Complete with many new graphics and references to professional construction cost databases, the new edition provides experienced contractors and novices alike with essential information on:
How to correctly interpret plans and specifications, including updates to contract documents since the first edition
Computer estimating techniques and new estimating software for performing quantity takeoff
The best methods for conceptual estimating, as well as the value and applications of parametric estimating
How to allocate the right amounts for profit and contingencies, and other hard-to-find professional guidance
How a unit price estimate is built, along with labor issues and budgeting for subcontractor work
---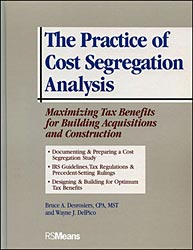 The Practice of Cost Segregation Analysis: Maximizing Tax Benefits for Building Acquisitions and Construction
by Bruce A. Desrosiers, CPA, MST and Wayne J. Del Pico
January 2004; Hardcover
This expert guide walks you through the practice of cost segregation analysis, which enables property owners to defer taxes and benefit from "accelerated cost recovery" through depreciation deductions on assets that are properly identified and classified. A relatively new practice that evolved from various court decisions and Internal Revenue Service rulings, cost segregation can be applied to new buildings under construction, renovations of existing buildings, leasehold improvements, and purchased real estate - going back as far as 1987.
Cost segregation practice requires knowledge of both tax law and the construction process. In this book, the authors share their expertise in these areas with tax and accounting professionals, cost segregation consultants, facility owners, architects and general contractors - providing guidance on major aspects of a professional, defensible cost segregation study, including:
The legal framework for cost segregation, as defined by the IRS, tax courts, and federal agencies
Review of key IRS cases, court rulings, and revenue procedures
Classification and depreciation methods
Understanding construction plans and specifications
Professional takeoff and cost estimating procedures
Optimizing cost segregation in new construction - from design choices to proper project documentation
With a glossary of terms, sample cost segregation estimates for various building types, key information resources, and updates via a dedicated website.
---